---
2018 has been another busy year with members across the UK getting involved in a range of activities relating to the history of nursing. An exciting new project this year has been 'Service Scrapbooks: Nursing and Storytelling in the First World War.' This focussed on the First World War stories of nine nurses and one VAD (Voluntary Aid Detachment). Each one of them left behind a scrapbook detailing their experiences in the Great War, which are held in the RCN Archives. With Heritage Lottery Funding, the Royal College of Nursing (RCN) has been able to digitise these documents and research the remarkable women who made them, tracing their wartime stories. A team of volunteers drawn from the History of Nursing Society contributed to this project which was also supported by nurse and poet, Molly Case, as writer in residence. https://www.rcn.org.uk/servicescrapbooks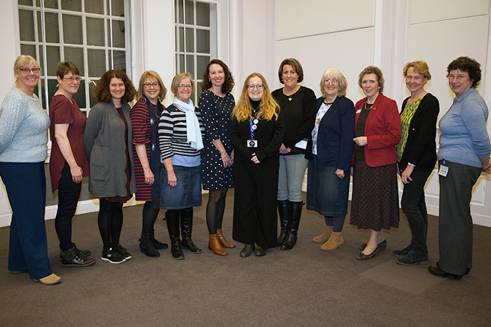 We now have a well-established pattern of launching a new exhibition, and associated events series, every Spring and Autumn in association with the Library and Archives team. The exhibition is based initially at the RCN's London HQ and then moves to the RCN's Scottish Office in Edinburgh. Events are held across the UK.
The year began with Scotland hosting 'For Queen and Country: Nursing, Trauma and War. Defence Nursing Then and Now', while London saw 'Hidden in plain sight: Celebrating nursing diversity'.
In March 2018 Pandemic! Nursing 100 years of infection (a joint project with the RCN's Public Health Forum) opened and explores how nurses have responded to deadly outbreaks, from the so-called Spanish Flu epidemic of 1918-9 to more recent contagions including HIV/AIDS and Ebola. A variety of events have been held including talks on yellow fever in Cardiff and polio in Belfast plus RCN HoNS and UKAHN member, Dr Tommy Dickinson, discussing his current research on nursing and HIV/ AIDS in London. In Edinburgh, the launch will be Thursday 1st November at 5pm with further talks on offer in Glasgow and Dundee.
Our new events and exhibition series will launch in London on October 2018– this will look at women's health nursing– past and present and is a joint project with the RCN's Women's Health Forum.

An evening of music and poetry at the People's History Museum in Manchester on the evening of Thursday 13th December will also mark the centenary of the beginnings of women's suffrage.
Other events planned include a lecture to mark the 80th anniversary of Kristallnacht by RCN HoNS and UKAHN member, Dr Jane Brooks, on Thursday 13 November at 5.30pm at London HQ and a guided walk in Edinburgh on Saturday 16th March at 2pm to remember the women of the world wars. A joint event with the RCN's Research society will be held at Imperial War Museum North in Salford on the evening of 14th November to mark the centenary of the end of the First World War.
Planning for future events and exhibitions is ongoing and will include marking the 100th anniversary of nurse registration in 2019 and the bicentenary of Florence Nightingale's birth in 2020. Most events are free and open to non-RCN members. Please see the RCN website for more information about events and online versions of all our exhibitions https://www.rcn.org.uk/library/exhibitions-and-events/ We also hold an annual RCN History of Nursing Lecture under the auspices of the Public Lecture series (funded by the RCN Foundation). The 2018 lecture was given in March by Professor Joanna Bourke from Birkbeck College, University of London and was a fascinating talk about her research into the history of sexual violence. An interview with her (as well as some of other speakers) can be watched online at https://www.rcn.org.uk/library/exhibitions-and-events/previous-events. Next year's lecture will be on Thursday 14th March at 6pm at RCN HQ, London and will be given by Dr Karen Egenes from Loyola University, Chicago.
The History of Nursing Society were also pleased to be at RCN Congress again this May in Belfast where we held two successful fringe events. We marked the 70th Birthday of the NHS with a talk by Dianne Yarwood, a quiz by myself and a birthday cake baked by Margaret Graham and cut by Lorna Finlay (both active members of the Northern Irish HoNS group).
Margaret also organised a moving and thought-provoking evening event when she and fellow HoNS members from Northern Ireland reflected on their experiences of nursing through the Troubles and discussed the long-term effects on nurses caring for casualties of conflict
We will be in Liverpool for Congress again in May next year and hope to run another fringe event there to mark the centenary of nurse registration in the UK.